PostDoc

on

High-performance

Multi-level

GaN-based

Power

Converters
Aanstellingsfunctie(s)
(Postdoctoraal) onderzoeker
Faculteit(en)
Electrical Engineering
Functieomschrijving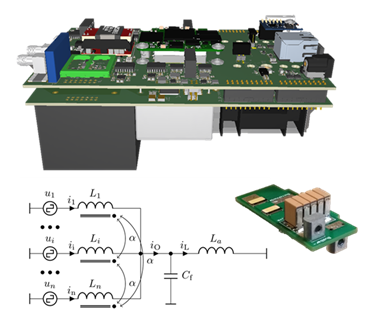 The Power Electronics lab at the Eindhoven University of Technology has an exciting position for a PostDoc in high-performance multi-level gallium-nitride (GaN)-based power converters. You can fully use and develop your innovative and creative qualities to research, develop, implement, and validate highly advanced techniques to enable power conversion with an ultra-high effective switching frequency, high operating voltage and high output precision. The techniques to be created by you should enable the prototype to reach a performance level that is multiple orders of magnitude beyond the current state of art, and enable major improvements in for example medical imaging and semiconductor lithography applications. You will be the first to break the barrier of 10 MHz effective switching frequency at 1000 V operating voltage with 100 A output current, while reaching -100 dB THD! Part of the challenge is to develop a full-scale prototype to demonstrate the technology.
You will work together with a large and diverse consortium of universities and companies within the European GaN4AP project, which allows you to exchange knowledge, to broaden your network, and to make a combined effort to push the boundaries of gallium-nitride technology. Additionally, presenting your findings and ideas to the scientific community is an essential part of your work, for which there are extensive travel possibilities.
Power electronics lab
This project will be carried out in the Power Electronics lab in the faculty of Electrical Engineering. The lab is world-leading in high-precision and high-performance power converters, as well as modeling, control and design techniques for such converters. Both fundamental and applied research is carried out and research collaborations with industrial partners are numerous. We are a young, dynamic and enthusiastic team, underlined by our regularly organized events and informal atmosphere.
Functie-eisen
We are looking for a talented and enthusiastic colleague with a PhD in Power Electronics, with a strong affinity with power electronics, the realization thereof, state-of-the-art digital control, and mathematics. The candidate should have:
Enthusiasm and motivation to work on highly challenging research topics, and the talent to contribute to the progress of science and technology.
Experience in power electronics and analog design.
Strong programming skills (MATLAB, C, VHDL).
Strong analytical and research capabilities.
Excellent communication skills.
Ability to independently organize his/her own work, to solve problems, to achieve the desired goals and to cooperate.
Work experience in an industrial environment is a plus.
Project management skills are a plus.
Ability to participate in the teaching process in BSc and MSc programs (both taught in English).
Good scientific writing and documentation skills.
Strong command of the English language, knowledge of Dutch language is a plus.
Commitment for the project duration of 3 years.
Arbeidsvoorwaarden
A meaningful job in a dynamic and ambitious university with the possibility to present your work at international conferences.
A full-time employment for 3 years.
You will have free access to high-quality training programs on general skills, didactics and topics related to research and valorization.
A gross monthly salary and benefits in accordance with the Collective Labor Agreement for Dutch Universities.
Additionally, an annual holiday allowance of 8% of the yearly salary, plus a year-end allowance of 8.3% of the annual salary.
A broad package of fringe benefits (including an excellent technical infrastructure, moving expenses, and savings schemes).
Family-friendly initiatives are in place, such as an international spouse program, and excellent on-campus children day care and sports facilities.
Informatie en sollicitatie
More information
Do you recognize yourself in this profile and would you like to know more? Please contact
dr.ir. B.J.D. Vermulst, b.j.d.vermulst[at]tue.nl.
For information about terms of employment, click here or contact HRServices.flux[at]tue.nl.
Please visit www.tue.nl/jobs to find out more about working at TU/e!
Application
We invite you to submit a complete application by using the 'apply now'-button on this page.
The application should include a:
Cover letter in which you describe your motivation and qualifications for the position.
Curriculum vitae, including a list of your publications and the contact information of
three references.
List of five self-selected 'best publications'.
We look forward to your application and will screen it as soon as we have received it.
Screening will continue until the position has been filled.
We do not respond to applications that are sent to us in a different way.
Please keep in mind you can upload only 5 documents up to 2 MB each. If necessary please combine files.