Postdoc:

Double-tough

Materials

by

Meta-experimental

Design

Optimization
Postdoc Position: Double-tough Materials by Meta-experimental Design Optimization (DoMaMeDO)
Aanstellingsfunctie(s)
(Postdoctoraal) onderzoeker
Faculteit(en)
Mechanical Engineering
Functieomschrijving
The design of new engineering materials requires inputs and approaches that reach into a variety of disciplines. This multidisciplinarity is crucial when it comes to ceramics: a field that bridges mechanical engineering and chemistry, whilst reaching into multiple functional applications, such as prosthetics, batteries, solar and fuel cells, catalysis, thermal engines, and many more. Yet an important limitation still stands against the implementation of ceramics into a multiplicity of devices: their inherent brittleness. Several strategies have been developed against this backdrop. However, they typically rely on largely empirical considerations and models that are often incomplete, resulting in long experimental design phases.
The candidate working on this project will tackle this challenge by combining numerical methods with laboratory experiments to optimize the material design and production process in an iterative meta-experimental fashion, to reduce the number of experiments needed to converge to a desirable solution in terms of mechanical behaviour. On the material design side, we aim at developing innovative ceramic materials design concepts and manufacturing routines towards their production in complex shapes (via e.g. tailored 3D printing techniques), by fostering a synergy between multiple toughening mechanisms. On the methodological side, numerical modeling and optimization techniques will be leveraged to efficiently guide the material design experimental steps (manufacturing and testing) towards the desired solution.
This position is part of a joint interdisciplinary project between the Mechanics of Materials and Control Systems Technology sections in the Department of Mechanical Engineering. The candidate will collaborate with a variety of research groups within and outside TU/e, while having opportunities to mentor students at many levels and take part in international scientific events. We expect the end product to be ready for application, and thus foresee a high potential for collaboration with industrial stakeholders.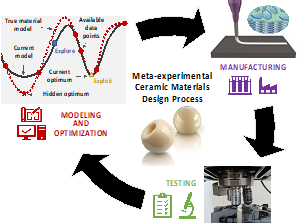 Functie-eisen
You are a talented and enthusiastic candidate with excellent analytical and communication skills.
A PhD degree (or equivalent) in Mechanical Engineering, Materials Science or a related discipline.
A strong background in materials engineering, mechanical behaviour of materials and numerical methods.
Experience and interest in lab work, design of experiments, system modelling and identification, and/or numerical optimization are of benefit.
Ability to conduct high quality academic research, demonstrated for instance by a relevant PhD thesis and/or publication(s).
Ability to teach, shown by experience or assistance in teaching and positive evaluations of these teaching efforts.
Excellent mastering of the English language, good communication and leadership skills. Note that there is no Dutch language requirement.
Be a team player and able to work in a dynamic, interdisciplinary context.
Arbeidsvoorwaarden
A meaningful job in a dynamic and ambitious university with the possibility to present your work at international conferences.
A full-time employment for 2 years in a highly motivated team.
You will have free access to high-quality training programs on general skills, didactics and topics related to research and valorization.
A gross monthly salary and benefits in accordance with the Collective Labor Agreement for Dutch Universities.
A broad package of fringe benefits (including an excellent technical infrastructure, moving expenses, and savings schemes).
Family-friendly initiatives are in place, such as an international spouse program, and excellent on-campus children day care and sports facilities.
You will be part of a highly profiled interdisciplinary collaboration where the expertise of a variety of engineering fields comes together. The TU/e is in one of the smartest regions of the world and part of the European technology hotspot 'Brainport Eindhoven'; well-known because of many high-tech industries and start-ups. A place to be for talented scientists! Besides the monthly salary,
Informatie en sollicitatie
More information about the project can be obtained from Dr. D. Giuntini, e-mail: d.giuntini[at]tue.nl, and Dr. M. Salazar, e-mail: m.r.u.salazar[at]tue.nl.
For information about terms of employment, click here or contact HRServices.Gemini[[at]tue.nl .
You can respond to this vacancy including:
Cover letter in which you describe your motivation and qualifications for the position.
Curriculum vitae, including a list of your publications and the contact information of three references.
List of five self-selected 'best publications'.
We do not respond to applications that are sent to us in a different way.
Please keep in mind you can upload only 5 documents up to 2 MB each. If necessary, please combine files.
Both national and international applications for this advertisement are appreciated. Review of applications will begin immediately and continue until the position is filled.
We look forward to your application and will screen it as soon as we have received it. Screening will continue until the position has been filled.