PhD

position

on

Beam

Tracking

in

Wireless

Optical

Communications
PhD position in Signal Processing for Optical Wireless Communication.
Aanstellingsfunctie(s)
Promovendus
Faculteit(en)
Electrical Engineering
Functieomschrijving
Background
The demand for wireless connectivity keeps growing exponentially. Communication by radio is reaching limits as further densification (more bits/s/m2) requires extreme sophistication of massive antenna arrays for beam steering and MIMO. In contrast to this, beam steering of light can rely on simple principles. Interestingly, the Eindhoven region developed world-class expertise in steering beams for optical recording. We see an opportunity for breakthroughs in wireless communication, by reusing these principles.
Our research addresses how to accelerate bit rates by combining coding and modulation with the physical properties of the (laser) emitter and of the (quadrant) detector and its electronics. Also, concepts for the control of where to steer the beam are not at a level where these can make a realistic chance of being adopted in scalable systems. For a ceiling mounted unit and a user client device to find each other, a 4 dimensional search (x,y on both ends) needs to be executed. Equally of concern is that after a minor deviation of the beam direction, the system needs to have an ability to derive an error signal to correct for the deviations. Hence a suitable tracking mechanism is to be created that works well with very high-speed modulation.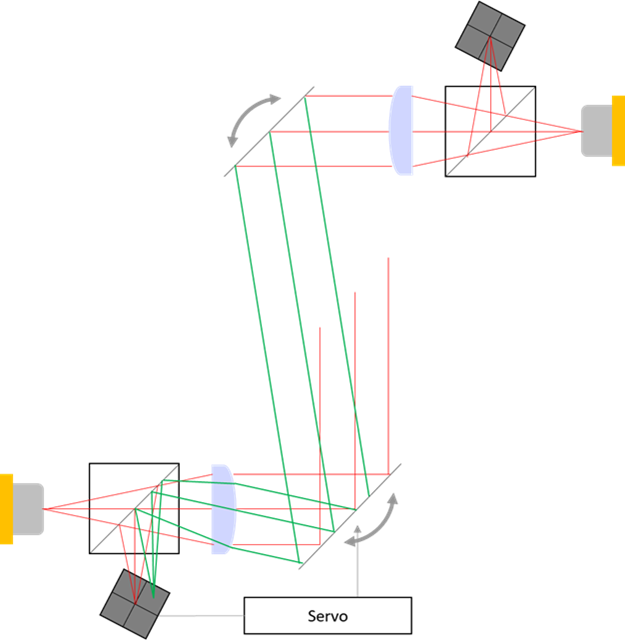 System concept for Optical Wireless Communication, inspired by optical recording principles
An actuated system concept with semi-transparent mirrors can automatically align the angles of incoming and outgoing beam. Moreover, small errors in the incoming beam can be detected by a multi-segmented photodetector, and can be used to direct the outgoing beam. These concepts, borrowed from optical recording, are identified as an attractive concepts that potentially can provide continuous tracking in a feedback loop. Similar concepts are also investigated for Free Space Optical communication between satellites, but we focus on indoor links in an Internet of Things setting.
Potential Impact
Will our future WiFi systems carry hundreds of Gigabit/s for every user, by directing a dedicated beam? Will we enjoy high-resolution Virtual Reality that is latency-free by not having to time-share the spectrum with other users? Can we fly a drone through a factory hall while getting 3D camera images in real-time without latency? Such innovations demand the performance of dedicated communication links per users, as optical beam can deliver.
Tasks
Study of optical wireless communication (OWC) system concept.
Study of optical pick-up units (OPUs) and tracking.
Modelling of OWC system with OPU-based beam acquisition and tracking. Link budget, achievable bit rates versus width of the beam, sensitivity to errors and mis-alignments, acquisition and tracking capabilities. Does a typical OPU suffice to meet all system requirements and if not then how can it be adapted?
Design and build a test client system that can shoot a beam back towards an already aligned ceiling unit.
Build a system with a controllable direction on both sides.
Evaluate and iteratively optimize the system.
Work environment
Eindhoven University of Technology (TU/e, https://www.tue.nl/en/) is one of Europe's top technological universities, situated at the heart of a most innovative high-tech region. Thanks to a wealth of collaborations with industry and academic institutes, TU/e's research is known for its real-world impact and has worldwide a leading position in effective academic – industrial cooperation. TU/e has around 3,000 employees and 2,300 PhD students (half of which international, representing about 70 nationalities).
The candidate will work in the Signal Processing Group (SPS) at the Department of Electrical Engineering (https://www.tue.nl/en/university/departments/electrical-engineering/). Within the EE department, research and education is done in domains of Telecommunication, Care and Cure, and Smart energy systems. The SPS group has a strong track record not only in signal processing for digital communication, but also for medical applications and for intelligent lighting systems. The impact of the work of the group is evident from a very close cooperation with industrial partners and research institutes and from international recognition and awards of the team.
The project is run in close cooperation with other Optical Wireless Communication projects at TU/e. Within the SPS group, the team of Prof Jean-Paul Linnartz focusses on intelligent lighting systems and on optical wireless communication. The team is well connected to state-of-art industrial developments, in particular the Signify (Philips Lighting) R&D in LiFi. The team has pioneered in converting nonlinear LED models into signal processing concepts, to boost communication performance. Previously, activities in his research teams led to three new High Tech ventures with unique technologies in security and communications and to over 12,000 citations is scientific literature (GS). A unique aspect of this project is its ambition to reuse technology used in the past for CD and DVD optical storage. In this field many optical principles have been refined to optimize the storage capacity, retrieval speed and robustness.
Qualifications
In the Signal Processing group, we are looking for a candidate who is interested and has a background in the overall system, but particularly has a background in wireless (optical) communications principles, optics, signal processing algorithms The project includes work on the hardware infrastructure (transceivers, OPUs, control hardware supporting cooperation between multiple emitters and receivers, backbone infrastructure), as well as experimental verification and demonstration of beam acquisition and tracking in practical system trials.
The PhD candidate will have to design, analyze, engineer and implement an OWC system which is able to reliably offer high data rates using advanced signal processing (including diversity, MIMO) techniques. The candidate also should consider constraints in the system design, such as cost-optimized coverage, power consumption, acquisition and tracking speeds, and signaling complexity. Moreover, he/she should validate the system in a realistic system application environment of IoT.
The PhD candidate should regularly report about his/her work, both orally in progress meetings as well as in writing deliverable reports. He/she should cooperate with the other researchers in the project, amongst others by integrating his/her results in the joint project system demonstrator. He/she should disseminate his/her work, including transfer to project partners and via publications in scientific journals and conferences.
Functie-eisen
Candidate profile
MSc degree in Physics or Electrical Engineering, with a background in communications, preferably with also some background in optics, photonics, signal processing, control.
Familiar with electronic laboratory measurement equipment, and electronic circuits.
Strong in mathematics, and creative in making realistic and tractable models to predict the performance of systems.
Proven team-working capabilities and communication skills, preferably having some experience in academic publishing.
English proficiency (both verbal and written).
Having the ambition to combine world-class academic research with meaningful industrial transfers.
Arbeidsvoorwaarden
A meaningful job in a dynamic and ambitious university with the possibility to present your work at international conferences.
A full-time employment for four years, with an intermediate evaluation (go/no-go) after nine months.
To develop your teaching skills, you will spend 10% of your employment on teaching tasks.
To support you during your PhD and to prepare you for the rest of your career, you will make a Training and Supervision plan and you will have free access to a personal development program for PhD students (PROOF program).
A gross monthly salary and benefits (such as a pension scheme, pregnancy and maternity leave, partially paid parental leave) in accordance with the Collective Labor Agreement for Dutch Universities.
Additionally, an annual holiday allowance of 8% of the yearly salary, plus a year-end allowance of 8.3% of the annual salary.
Should you come from abroad and comply with certain conditions, you can make use of the so-called '30% facility', which permits you not to pay tax on 30% of your salary.
A broad package of fringe benefits, including an excellent technical infrastructure, moving expenses, and savings schemes.
Family-friendly initiatives are in place, such as an international spouse program, and excellent on-campus children day care and sports facilities.
Informatie en sollicitatie
More information
Do you recognize yourself in this profile and would you like to know more? Please contact
prof. Jean-Paul Linnartz, j.p.linnartz[at]tue.nl.
For information about terms of employment, click here or contact HRServices.flux[at]tue.nl
Please visit www.tue.nl/jobs to find out more about working at TU/e!
Application
We invite you to submit a complete application by using the 'apply now'-button on this page.
The application should include a:
Cover letter in which you describe your motivation and qualifications for the position.
A detailed Curriculum Vitae, including also a list of publications, awards and contact information of two referees;
Copies of diplomas, including list of courses taken and grades obtained;
Proof of English language skills (if you are not a native speaker);
Any other information you deem relevant (e.g. PDF of a recent paper).
We look forward to your application and will screen it as soon as we have received it. Screening will continue until the position has been filled. Startdate as soon as possible.
We do not respond to applications that are sent to us in a different way.
Please keep in mind you can upload only 5 documents up to 2 MB each. If necessary please combine files.