PhD:

Impact

of

MV

connected

fast

EV

chargers

and possibilities for grid support
Aanstellingsfunctie(s)
Promovendus
Faculteit(en)
Faculteit Electrical Engineering
Graduate Program(s)
Electrical Engineering
Functieomschrijving
This position is a part of a large NOW Crossover project called NEON. NEON is a multidisciplinary project that address three related societal challenges: clean energy, intelligent green transport, and climate action. It aims at developing solutions for quickly transforming our energy and mobility systems from running on fossil fuels to running on renewables. NEON will make use of a cross-disciplinary and integral approach to address complex aspects of the energy transition: the interaction between energy and mobility, the relation between technology innovation and personal preferences, the regulation and standardization of future energy and mobility systems, etc. This will involve the collaboration of several academic and industrial partners from the Netherlands across multiple science domains.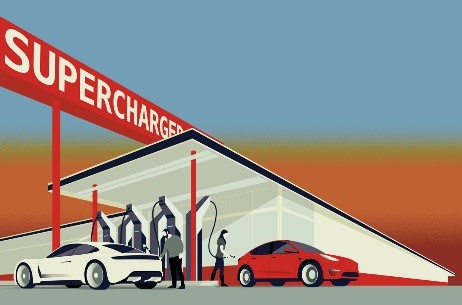 Within NEON, this PhD project focuses on the challenge of charging mobility. For capacity planning, building of a limited number of medium voltage fast charging stations with high capacity instead of rebuilding low voltage electricity infrastructure at a large scale is preferred. Also, EVs manufacturers favor fast charging stations to increase the range of electric vehicles (Illustration: McKibillo - IEEE Spectrum). Therefore, the aim of this particular PhD project is to consider the implications of medium-voltage connected, transformerless, fast-chargers on the voltage quality. Additionally, the potential of such fast-charging stations which include storage to offer grid support (e.g. congestion management and voltage control) will be considered.
This project focuses on the impacts of large-power power electronics connected to the medium-voltage network. This involves research in power electronics modelling (the charger topology will be the topic of one of the partnering PhDs) and power system modelling. The research is part of the NEON (New energy outlook for the Netherlands) NWO (Dutch Research Council) project and it will be conducted within the Electrical Energy Systems (EES) group of the Department of Electrical Engineering, TU/e, in cooperation with the Electromechanics and Power Electronics (EPE) and Control Systems (CS) groups, Damen, Prodrive, Elaad and the other NEON partners.
Functie-eisen
For the PhD position in this project, a candidate with a MSc degree in Electrical Engineering will be selected and hired as a doctoral candidate in the Electrical Energy Systems Group for a 4-year period. The candidate should have the following competences:
You are a talented and enthusiastic young researcher,
Strong academic background in Electrical Power Systems and/or Power Electronics,
Good programming skills in Matlab; experience with additional Power Electronics and/or Power System Analysis software is a pre,
A team-player with excellent communication and cooperation skills in a multi-partner and multi-disciplinary project environment,
You are creative and ambitious, hard-working and persistent,
Able to independently organize your work,
Possessing good skills in scientific writing,
Strong command of the English language (knowledge of Dutch is not required).
Arbeidsvoorwaarden
Challenging job in a dynamic and ambitious university and a stimulating internationally renowned research environment.
Full-time temporary appointment for 4 years.
Gross salary between € 2.395 and € 3.061.
An extensive package of fringe benefits (e.g. excellent technical infrastructure, the possibility of child care and excellent sports facilities).
Informatie en sollicitatie
For more information contact: dr. Vladimir Cuk (v.cuk[at]tue.nl) or Prof. dr. Sjef Cobben (j.f.g.cobben[at]tue.nl)
For information about terms of employment, please contact our HR department: hrservices.flux[at]tue.nl.
More information on employment conditions can be found here:
https://www.tue.nl/en/working-at-tue/why-tue/compensation-and-benefits/
Application
We invite you to submit a complete application by using the 'apply now'-button on this page.
You should prepare the following documents for upload:
a brief cover letter motivating your interest and suitability for the position;
a detailed curriculum vitae including research experience and any previous publications;
transcripts of academic records indicating courses taken (including grades);
half-page summary of your MSc thesis;
contact details of two relevant references (email, phone number).
Please note that you can upload up to 5 documents, so if you have more than 5 documents you will have to combine them.
Applications by e-mail are not accepted!