Engineer

Electronics

and

Mechatronics

(0,8-1,0

fte)
Aanstellingsfunctie(s)
Niet-wetenschappelijk personeel
Dienst(en)
General Affairs
Instituten en overigen
Innovation Space
Functieomschrijving
Are you an electronics engineer who knows how to implement, maintain and improve PCB/PLC components, electrical systems and power electronics? And would you like to be part of an innovative educational environment? The TU/e innovation Space offers you this opportunity.
As an Electronics and Mechatronics Engineer you will be responsible for an assembly space with technical equipment, electronic workbenches and 3D-printers to facilitate and assist students and student teams that work on new and exciting innovations!
Background: TU/e innovation Space and Challenge-Based Learning
Since 2020, TU/e innovation Space is the Center of expertise for Challenge-Based Learning (CBL) and student entrepreneurship at TU/e, a learning hub for innovation of education. It forms an open community where students, researchers, industry, and societal organizations exchange knowledge and develop societal responsible solutions to real-world challenges.

We facilitate education by helping and coaching teachers and students. We provide various types of technical equipment and help students with prototyping. We host and support currently 56 student teams that are active in innovation and entrepreneurship close to their regular education curriculum.
TU/e innovation Space is one of the coolest places to work in the university, with smart and motivated students who address challenges in the fields of sustainability, artificial intelligence, health, build environment and mobility. They work on extraordinary projects e.g. to develop new types of robots, a solar-powered family car, a car made of bio composite, drones that can swap batteries in-air, a mobile phone for blind people, new biomedical sensors, future living concepts, VR games and new energy systems, to name just a few…Below you can find some references for further information.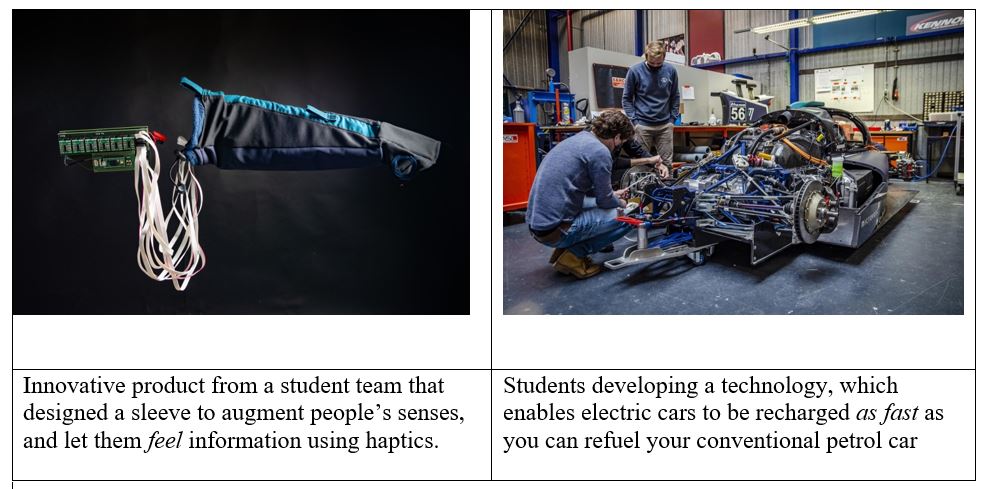 For further information please refer to:
https://www.tue.nl/innovationspace/
https://www.tue.nl/en/our-university/student-teams/
https://www.tue.nl/en/education/why-study-at-tue/challenge-based-learning/
The Position
With this position, we aim to complement our technical support team with more expertise on electronics, automation, and 3D-printing.
As an engineer you will provide hands-on support on design and construction of electronic and mechatronic systems, and you will be responsible for maintaining and expanding our current capabilities in 3D-printing. Our work environment is different from a research or manufacturing facility: our technical staff has an important role in coaching and guiding students. Key aspects in this role are therefore: affinity with education, coaching students and a service-oriented approach.
You have knowledge of Design for Manufacturing, and can help students and staff in designing products in such a way, that they get easy to manufacture. You like to explore the latest technologies in electronics and 3D-printing with us, and at the same time you will coach students and provide hands-on support to apply these technologies into products or prototypes.
The team you will get to work in within TU/e innovation Space is small and dedicated. You will be offered training opportunities that enable you to grow and to learn in your role. You will be main responsible for managing and overseeing one of our workspaces, that is equipped for electronics/mechatronics and 3D-printing. This workspace is currently featured with a.o. basic electronic measurement equipment, various development platforms, soldering stations, electronic apparatus and 3D-printers. You will get to work closely together with colleagues who support designing and mechanical manufacturing.
As our innovations are constantly pushing the boundaries of what is possible, you need to be keen on learning new things and search for solutions on new terrains. You will undertake design feasibility studies and investigations, identifying and evaluating new state-of-the-art technologies that can help to improve the technical resources that we offer.
To be successful in this role, you act as a team-player, and forming your own network will be important. You will form a bridge for collaboration with a new CBL-hub in the departments of Applied Physics and Electrical Engineering, that will feature more specialized equipment and support. You will also connect with EPC (professional Equipment and Prototype Center) and other professionals within the university, in helping our students to get to the best solutions in the process of designing or engineering a product.
Functie-eisen
For this position, we you must have knowledge and experience in the following areas:
Strong proven ability in electronic design, in a broad range of analogue and digital systems;
Experience in combining sensors and actuators by using the right mix of mechanics, electronics and software (mechatronics);
Affinity or experience with education is an advantage;
Experience with design and construction of embedded systems;
Experience with design and PLC implementation, for automation and control applications;
Ability to develop circuit schematic designs, and design of printed circuit boards;
Affinity with battery system design for consumer electronics or embedded systems is preferred; ability to design and document power system architecture and specifications is a plus;
Development of architectural designs, including hardware/software partitioning;
Ability to integrate sensoring in electronic systems (e.g. AI-enabled sensoring that merges hardware and software to collect data at consumer wearables, IoT devices, digital biomarkers, etc.);
You have interest in the mechanical aspects of manufacturing, as projects are interdisciplinary;
Experience and affinity with 3D-printing;
You have the ability to accurately plan the electronics development portion of projects, estimating development costs and timescales as well as final product costs.
To take on this challenging job, the following characteristics apply to you:
Master's Degree or PhD in electronics, or mechanical engineering/computer science with strong affinity to electronics and control. Alternatively, you own a relevant HBO/Bachelor's degree with multi-annual experience in a relevant industry;
You enjoy communicating with different audiences and have excellent communication skills in English. Dutch is regarded a plus, but not a requirement;
You are eager to learn, and able to combine new knowledge with your expertise;
You are service-oriented and passionate about your job;
Strong communication skills are important, you enjoy transferring your knowledge and experience to students, on individual level or by offering workshops;
Work on-campus is a prerequisite;
Ability to steer and work with student assistants that have a role in our technical service desk;
Able to contribute to planning projects, defining tasks, estimating duration and workload;
With many student teams and courses that require our support, you must have the ability to work on multiple projects at the same time and balance your own time;
You are conscientious and analytical;
You are well-organized, deadline-driven, autonomous, flexible, service- and result oriented;
Prepared to participate in Innovation Space's Company Emergency team (BHV).
Arbeidsvoorwaarden
A meaningful job in a dynamic and ambitious university.
An initial one-year contract. After a mutual positive evaluation of the first year, the appointment will be extended or converted into a permanent contract.
The fulltime salary is in accordance with the CAO-NU and depends on knowledge and experience; minimum € 2.846,- and maximum € 4.490,- gross per month on fulltime basis (in accordance with salary scale 10).
The year-end bonus is 8.3% of the annual salary (equivalent to one month's salary). The vacation allowance is 8% of the annual salary. The TU/e also offers excellent secondary employment conditions (including childcare, a minimum of 41 leave days for a 40-hour work week and excellent sports facilities).
Informatie en sollicitatie
For more information, contact Mark Scheffer, manager technical resources m.scheffer[at]tue.nl, or Alfons Bruekers, managing director at TU/e innovation Space, a.w.j.bruekers[at]tue.nl

We strive for diversity in the technical support team. From this perspective, female candidates are extra encouraged to respond to this vacancy.
Internal and external recruitment will take place simultaneously. In case of equal suitability, internal candidates will have priority.