Managing

Director
Aanstellingsfunctie(s)
Niet-wetenschappelijk personeel
Dienst(en)
Dienst Algemene Zaken
Instituten en overigen
EAISI - Eindhoven Artificial Intelligence Systems Institute
Functieomschrijving
Institute EAISI
In the world of AI, an important shift is foreseen from the current consumer-data driven algorithms to a next generation machine-data driven intelligence. At TU/e we are exceptionally well positioned to contribute to this shift from a Data-only to a Data-Human-Machine approach through our combined competences in Data and Algorithms, Humans and Ethics, and Engineering Systems.
It is our expectation that the AI technology, as it is to be developed in the upcoming years, will be relevant to all areas of science and engineering: ranging from mechanical and electrical engineering, to industrial engineering and design, and many more. Furthermore, this AI technology will be crucial for many sectors such as intelligent machines, autonomous systems, mobility, healthcare equipment, communication, and IoT.
Based on that expectation we define the long-term goal of EAISI to be the design of intelligent engineering systems that sense their environment, learn and understand it, and in interaction with humans, reason about which action to take to achieve specified goals.
To achieve this EAISI will in the next 5 years:
Invest 20M€ per year of internal resources into a research and education program.
Set up a dedicated lab in the center of the TU/e campus.
Expand and improve our research in linking the cyber world to the physical world in three application areas Health, High Tech Systems, and Mobility.
The ambition for EAISI for 2024 is:
To acquire an additional, external annual research budget of 30M€.
To appoint 50 new AI related professor positions (Assistant, Associate, Full) on top of the current 150 existing AI related positions.
To have 20% of our AI related publications in the top 5% of scientific journals.
To accomplish that at least 25% of TU/e graduates are AI specialists or 'AI enabled' engineers (>300 BSc, >300 mSc, >300 professional education students per year);
To have TU/e regularly (at least weekly in average) mentioned in national newspaper or national television on AI related subjects, plus measurable mentioning in significant international press.
To contribute to a flourishing AI ecosystem in Brainport Eindhoven, building on the High Tech Systems knowledge base, using the quality, intensity and proximity of leading public and private research, and exploiting the entrepreneurial spirit that unites the ecosystem.
To be the preferred AI research partner for leading companies in Mobility, Health and High Tech Systems applications in the Netherlands.

Organization
EAISI governance is based on the TU/e adopted governance structure for institutes, with some necessary adjustments due to the larger size of EAISI. The core team is formed by the General Manager, the Scientific Director and Managing Director. This core team will be supported by a management team in which all targets responsibilities are represented as indicated below .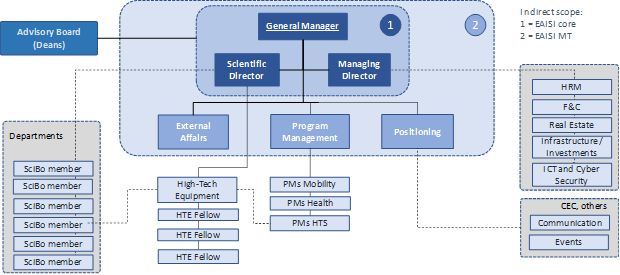 The Managing Director contributes broadly to the strategy, policy and implementation of TU/e and dedicated processes and not only represents the Institute, but also the interests of the university as a whole. The Managing Director is a good sparring partner and complementary for the General Manager in order to make EAISI a success as a team with the involved colleagues.
The Managing Director (MD) is responsible for the internal organization and daily operation of EAISI and provides support for education, research and valorisation. This responsible for that the MD is concerned with Human Resources Management, finance, ICT, legal affairs, health & safety, environment, and internal affaires and Cyber Security.
The MD supervises and maintains a flexible and cooperative relatively flat structure with minimal administrative rules and procedures. The MD is closely involved in the implementation and preparation of finances and employee career development for which she/he has regular consultations with individual staff, supported by the financial controller and the HR advisor. Managing, directing, motivating and coaching employees is a substantial and crucial part in this role as is building and maintaining effective working relationships with all parts of TU/e.
In addition the Managing Director, at the request of the University Executive Board, participates in various university-wide consultative bodies, and through collaboration with other directors, makes an active contribution to shaping modern and efficient operational management at the TU/e.
Functie-eisen
Organizational context and position
The Managing Director is appointed by and reports to the General Manager of the EAISI Institute. He/she should act as a solid and full-fledged counterpart at this level. The job is positioned at the level of Directors of Services and Managing Directors of Departments. With these colleagues regular meetings and consultations are held. In practice a substantial part of the job involves collaborating in a matrix organization and in project form.

Responsibilities and core tasks
The Managing Director is ultimately responsible for all operational processes in EAISI with an emphasis on:
Ensuring a well-functioning and integrated business operation
Sustainable financial management that serves to promote the strategy and development of EAISI and its staff in terms of its primary processes of education and research.
Coordinating and managing recruitment and career planning.
Fluent cooperation and active sparring partner within the EAISI Core Team with specifically the General Manager and Scientific Director and within the broader EAISI Management Team.
In general the TU/e Strategy 2030 forms the basis for new initiatives and investments. As Managing Director you play an important role in the further development and implementation of this policy and you are expected to contribute to the ambition of reinforcing TU/e's leading position in the world of Science and Technology.
Requirements and qualifications
You have proven successful (people) management experience preferably gained in an academic or research environment.
You are an above average people manager and understand the specific merits of, and ways of working in knowledge intensive organisations.
You are committed to the EAISI mission, and in this sense you maintain a creative, flexible, communicative, pro-active and goal-oriented management style.
As a candidate you are an independent and decisive professional with sound administrative, financial and /or legal knowledge and experience.
Experience with educational and/or research policy, or demonstrable affinity with these primary processes.
You can present and represent EAISI and TU/e both internally and externally in a compelling and inspirational way.
Experience in the targeted application areas (Mobility, Health, High Tech Systems) and/or in data and algorithms research and development of complex hardware or software would be an advantage.
Preferably you also have experience in developing and implementing strategic policy for human resources, research infrastructure and finance.
You take ownership based on EAISI's targets, not waiting on an instruction or reading a function description.
You have an excellent proficiency in English (C2) as well as in Dutch.
Personality and competences:
The Managing Director is expected to be goal-oriented and also to be able to empathize with the primary process and what drives scientists. The starting point is that the business management process follows the scientific strategy. "Servant-leadership" is the term that is appropriate within this context.
Furthermore, the Managing Director is analytical and has a well-developed social intelligence. In his/her contacts, he/she is connecting and diplomatic, but also clear, decisive and visible. He/she can quickly analyze the cases, set priorities and convince others by carefully balancing interests and (financial) restrictions or possibilities. He/she has a flexible and service-minded attitude, but knows when solidity is appropriate or necessary. The Managing Director is a team player with an eye for people and also represents the interests of EAISI in relation to other Institutes, departments and services as well as to parties and stakeholders outside the TU/e. At the same time he/she has an eye for institutes and department-transcending goals and interests and makes an active contribution to this.The MD is both nuanced and convincing in his or her communication. He/she has political sensitivity and is alert to changes within the organization, establishes contacts with other institutes and departments and sets up useful, supportive networks. He/she has a broad perspective and keeps various scenarios in mind when developing a future vision for the organization.
Arbeidsvoorwaarden
This position concerns a full-time job with an initial salary scale of 15 according to the Collective Labor Agreement of the Dutch Universities.The TU/e has an attractive package of secondary employment conditions, including a fixed 13th month bonus, 41 paid holidays based on a fulltime 40 hour workweek, an attractive pension scheme (ABP), excellent sports facilities and childcare on campus. This is a structural position. The initial year contract will be converted into a fixed contract after a mutual positive evaluation of the first year.
Informatie en sollicitatie
Information:
For more detailed information about the job please contact dr.ir. C.J.T. v.d. Weijer, General Manager of EAISI, e-mail: C.J.T.v.d.Weijer[at]tue.nl.
More information can be obtained from the link: https://www.tue.nl/en/working-at-tue/why-tue/compensation-and-benefits/
Timeline recruitment process
| | |
| --- | --- |
| Vacancy online | till October 25, 2020 |
| Selection interviews with committee (1st round) | week 45 |
| Selection interviews (2nd round) | week 46 |
| Finalizing procedure | week 46-47 |
An assessment or reference examination may be part of the procedure.
Background information
TU/e is a leading international university of technology specializing in Engineering Science & Technology. Through excellent teaching and research we contribute to progress in the technical sciences, to the development of technological innovations, and as a result to the growth of prosperity and welfare in the region and beyond. TU/e maintains close links with industry, healthcare and the building & logistics sectors.
TU/e has developed Strategy 2030 which aims at reinforcing its position as a leading university in science and technology. As part of this strategy, the TU/e will strengthen its core activities to extend the frontiers of science and technology and educate the engineers of the future who combine in-depth knowledge about technology with the skills to address global societal challenges.
Whether it concerns education, research, valorization or support processes: within the TU/e it is all about people. For this reason the TU/e slogan is: TU/e, where innovation starts and where people matter.