PhD

on

Flow-assisted

shaping

of

polymer

surfaces

for

steering cell behaviour
Are you eager to work on a pioneering PhD project at the interface between fluid physics, soft matter and bioengineering? Do you enjoy collaborating with researchers from different fields, and combining experiments and theory? Then this position might be for you!
Irène Curie Fellowship
No
Department(s)
Applied Physics and Science Education
Reference number
V34.6134
Job description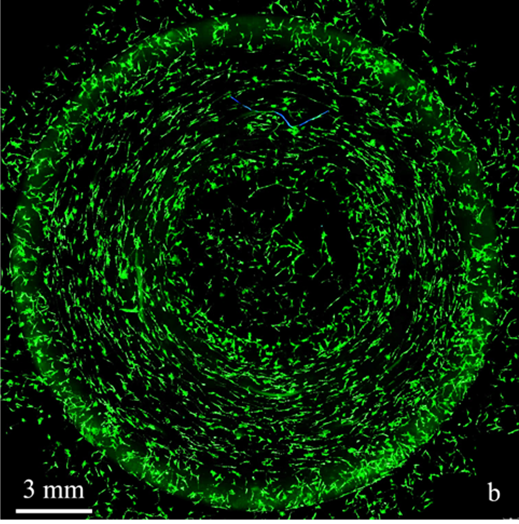 Interfacial flows in evaporating liquid droplets can form remarkably complex deposition patterns of suspended microparticles or polymers. In this PhD project we will unravel how the flows inside an evaporating droplet cause the aggregation of the biopolymer collagen, and how the patterns formed can be used to control the function of eukaryotic cells.
The project will be carried out in the team of Dr. Hanneke Gelderblom, assistant professor in the Fluids and Flows group at the department of Applied Physics. The team focusses on capillary flow phenomena in liquids containing biological or living matter. The PhD project will be embedded within the Immuno-engineering program of the Institute of Complex Molecular Systems (ICMS). Within the project you will closely collaborate with the Soft Matter and Biological Physics group within the department of Applied Physics and with researchers from the department of Biomedical Engineering, who focus on using structured collagen substrates to study the behaviour of cells in healthy and diseased tissue. Besides research you will also contribute to education. Apart from supervising BSc and MSc students in their research projects, other assistance in education, e.g. in bachelor courses, is usually limited to about 5% of your contract time.
Job requirements
A master's degree (or an equivalent university degree) in (bio)physics or fluid dynamics
Experience in theoretical/numerical modelling in fluid dynamics/ biophysics/soft-matter physics
Affinity with experimental fluid dynamics/ biophysics/soft-matter physics
Pro-active and collaborative mentality
Eager to learn
Good organization and communication skills
Fluent in spoken and written English.
Conditions of employment
A meaningful job in a dynamic and ambitious university, in an interdisciplinary setting and within an international network. You will work on a beautiful, green campus within walking distance of the central train station. In addition, we offer you:
Full-time employment for four years, with an intermediate evaluation (go/no-go) after nine months. You will spend 10% of your employment on teaching tasks.
Salary and benefits (such as a pension scheme, paid pregnancy and maternity leave, partially paid parental leave) in accordance with the Collective Labour Agreement for Dutch Universities.
A year-end bonus of 8.3% and annual vacation pay of 8%.
High-quality training programs and other support to grow into a self-aware, autonomous scientific researcher. At TU/e we challenge you to take charge of your own learning process.
An excellent technical infrastructure, on-campus children's day care and sports facilities.
An allowance for commuting, working from home and internet costs.
A Staff Immigration Team and a tax compensation scheme (the 30% facility) for international candidates.
Information and application
About us
Eindhoven University of Technology is an internationally top-ranking university in the Netherlands that combines scientific curiosity with a hands-on attitude. Our spirit of collaboration translates into an open culture and a top-five position in collaborating with advanced industries. Fundamental knowledge enables us to design solutions for the highly complex problems of today and tomorrow.
Information
Do you recognize yourself in this profile and would you like to know more?
Please contact the hiring manager dr. Hanneke Gelderblom, Fluids & Flows group, Department of Applied Physics, h.gelderblom[at]tue.nl, https://www.tue.nl/en/research/research-groups/fluids-and-flows/
Visit our website for more information about the application process or the conditions of employment. You can also contact HR Services Flux, HRServices.flux[at]tue.nl.
Are you inspired and would like to know more about working at TU/e? Please visit our career page.
Application
We invite you to submit a complete application by using the apply button. The application should include a:
Cover letter in which you describe your motivation and qualifications for the position.
Curriculum vitae, including a list of your publications/theses and the contact information of two references.
Brief description of your MSc thesis.
We look forward to receiving your application and will screen it as soon as possible. The vacancy will remain open until the position is filled.