PhD

on

efficient

digital

twin

of

interacting

medical

devices and patient tissues
Irène Curie Fellowship
No
Department(s)
Mechanical Engineering
Reference number
V35.6102
Job description
The PhD vacancy is available in the section Mechanics of Materials of the Mechanical Engineering department and is part of the large-scale collaborative European project TASTI (Application-TAilored SynThetic Image generation). The PhD student will be supervised by prof.dr. ir. Olaf van der Sluis, dr.ir. Joris Remmers and dr.ir. Clemens Verhoosel.
Project background
Due to the large variety of medical procedures, it is almost impossible to provide in-hospital training to the staff on all procedures. Simulated training environments provide this large variety by using synthetic images. To be able to use these simulations for training medical staff on complex procedures, the current state-of-the-art simulators are extended by including synthetic images through highly accurate interacting digital twins of interventional devices and patient tissues. Through integration with simulation equipment from Mentice (Sweden), the medical staff will be able to practice a full procedure in a realistic simulation environment, including accurate haptic feedback. Moreover, synthetic X-ray images will be used to create a realistic virtual test environment for early validation of new concepts or usability of new features – even before the final hardware is available. In this PhD project, we will develop an efficient and accurate computational model of the interaction of the devices with human tissue that will be used to generate the synthetic X-Ray images.
Job description
Reduced-order models (ROM), as efficient mathematical representations of high-fidelity models, promise to reach (near) real-time simulation capability. The research will focus on developing fast and robust methods for adapting reduced order models to new sets of parameters, either based on orthogonal decomposition or generalized decomposition methods. The challenges that will be addressed are the ability to deal with geometric and material nonlinearities, history-dependency and dynamically changing three-dimensional contact, which are required ingredients for meaningful simulations of medical procedures. In addition, to describe the interaction between medical devices and human tissues (e.g., blood vessels) accurately, virtual patient databases will be developed to represent variability in sizes and shapes using fully versatile geometry representation techniques such as NURBS, as input for physics-based simulations. These geometry models will be derived in such a way that details can be added when needed.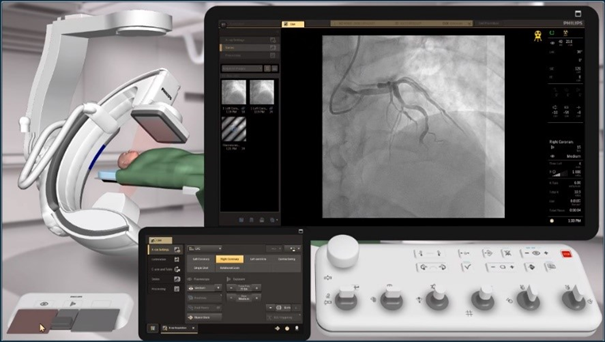 Section description
The research activities of the Mechanics of Materials group (www.tue.nl/mechmat) concentrate on the fundamental understanding of various macroscopic problems in materials processing and forming, which emerge from the physics and the mechanics of the underlying material microstructure. The main challenge is the accurate prediction of mechanical properties of materials with complex microstructures, with a direct focus on industrial needs. The thorough understanding and modelling of 'unit' processes that can be identified in the complex evolving microstructure is thereby a key issue. The group has a unique research infrastructure, both from an experimental and computational perspective. The Multi-Scale Lab allows for quantitative in-situ microscopic measurements during deformation and mechanical characterization and constitutes the main source for all experimental research on various mechanical aspects of materials within the range of 10-9 – 10-2 m. In terms of computer facilities, several multiprocessor-multi-core computer clusters are available, as well as a broad spectrum of in-house and commercial software.
Job requirements
Highly talented, enthusiastic candidates with excellent analytical skills and high grades are encouraged to apply. An MSc degree in Mechanical Engineering, Physics, Materials Science, or a related discipline is required, as well as a strong background in continuum mechanics and computational methods and the implementation of these methods in advanced numerical frameworks. In particular, students with a specialization in micro-mechanics, thermo-mechanical materials modelling, and finite element techniques are encouraged to apply. The ideal candidate has excellent scientific skills as well as outstanding verbal and written communication skills.
Conditions of employment
A meaningful job in a dynamic and ambitious university, in an interdisciplinary setting and within an international network. You will work on a beautiful, green campus within walking distance of the central train station. In addition, we offer you:
Full-time employment for four years, with an intermediate evaluation (go/no-go) after nine months. You will spend 10% of your employment on teaching tasks.
Salary and benefits (such as a pension scheme, paid pregnancy and maternity leave, partially paid parental leave) in accordance with the Collective Labour Agreement for Dutch Universities.
A year-end bonus of 8.3% and annual vacation pay of 8%.
High-quality training programs and other support to grow into a self-aware, autonomous scientific researcher. At TU/e we challenge you to take charge of your own learning process.
An excellent technical infrastructure, on-campus children's day care and sports facilities.
An allowance for commuting, working from home and internet costs.
A Staff Immigration Team and a tax compensation scheme (the 30% facility) for international candidates.
Information and application
About us
Eindhoven University of Technology is an internationally top-ranking university in the Netherlands that combines scientific curiosity with a hands-on attitude. Our spirit of collaboration translates into an open culture and a top-five position in collaborating with advanced industries. Fundamental knowledge enables us to design solutions for the highly complex problems of today and tomorrow.

Information
Do you recognize yourself in this profile and would you like to know more?
Please contact Olaf van der Sluis, email: o.v.d.sluis[at]tue.nl, Joris Remmers, email: j..j.c.remmers[at]tue.nl, and/or Clemens Verhoosel, email: cverhoose[at]tue.nl.
Visit our website for more information about the application process or the conditions of employment. You can also contact HR Advice ME, email HRAdvice.ME[at]tue.nl.
Are you inspired and would like to know more about working at TU/e? Please visit our career page.
Application
We invite you to submit a complete application by using the apply button. The application should include a:
a motivation letter (stating personal goal and research interests connecting to one or more of the topics defined above),
a complete Curriculum Vitae (including a list of publications),
transcripts of BSc, and MSc degrees,
contact information of two potential referees.
We look forward to receiving your application. Both national and international applications to this advertisement are appreciated. Review of applications will begin immediately and continue until the position is filled. Promising candidates will be contacted by email.
We do not respond to applications that are either incomplete or sent to us in a different way.