PhD

in

Quantum

Secure

Communications

and

Networking
Do you want to pursue a PhD in Quantum Communications in one of the leading Quantum hubs in Europe?
Irène Curie Fellowship
No
Department(s)
Electrical Engineering
Reference number
V36.6096
Job description
Testbed for Quantum Safe Communications
Secure communications and networking are one of the bedrocks of modern life and many applications which we take for granted today – think banking, connected transport, digital medical records, governmental and military communications – would be unthinkable should the trust in modern communication systems be lost. As quantum technologies progress rapidly, the growing scale of quantum computers threatens to cause such a loss of trust as current cryptographic technologies and protocols will no longer be secure. Preventing this threat requires adoption of quantum safe cryptography in the form of post-quantum crypto (PQC) algorithms and protocols and/or through the use of quantum key distribution (QKD). TU/e Eindhoven has established a testbed for quantum safe communications where QKD and PQC are evaluated and tested. The testbed evaluates QKD and PQC and their combination into real-world applicable quantum safe communication solutions and investigates their integration with classical communication networks.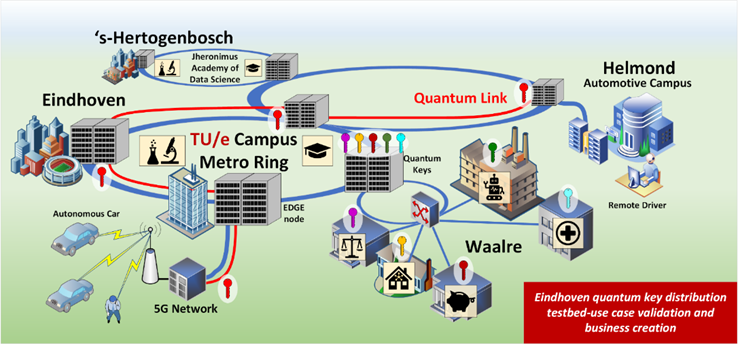 This vacancy is for a research PhD position in Quantum Secure Communications and Networking. The objective of this project is to design and evaluate network architectures for quantum secure communications and to develop the necessary criteria and routines to establish quantum secure communication links. The research may include adjacent topics such as the required authentication and establishment and propagation of trust for QKD-based networks, the integration between classical and quantum communications and the evaluation of key use-cases for QKD. You will have the opportunity to work with the latest in telecommunications and quantum key distribution technology – with both commercial devices and the novel components and system developed at TU/e – and will be in the unique position to contribute to one of the most advanced QKD deployments and testbeds in Europe and to partake in the demonstration of different use-cases for quantum safe communications.
Job requirements
We see a talented, motivated, and enthusiastic researcher. Analytical skills, initiative and creativity are highly desired.
The successful candidate shall have/be:
A Master of Science degree (or equivalent) in Telecommunications, Electrical Engineering or Computer Science with an excellent academic record
Fluent in written and spoken English
An intrinsic motivation of scientific research and the pursuit of knowledge
Experience and a strong background in one or multiple of the following subjects:

Telecommunication networks, especially optical communications
Quantum key distribution and quantum secure communications
Network architectures, management and control
Classical and quantum cybersecurity systems
Preparation of scientific telecommunication test setups, installation of communication networks and their operation

Desire and affinity to work in an academic research lab with PhDs, Postdocs and MSc students
Conditions of employment
A meaningful job in a dynamic and ambitious university, in an interdisciplinary setting and within an international network. You will work on a beautiful, green campus within walking distance of the central train station. In addition, we offer you:
Full-time employment for four years, with an intermediate evaluation (go/no-go) after nine months. You will spend 10% of your employment on teaching tasks.
Salary and benefits (such as a pension scheme, paid pregnancy and maternity leave, partially paid parental leave) in accordance with the Collective Labour Agreement for Dutch Universities.
A year-end bonus of 8.3% and annual vacation pay of 8%.
High-quality training programs and other support to grow into a self-aware, autonomous scientific researcher. At TU/e we challenge you to take charge of your own learning process.
An excellent technical infrastructure, on-campus children's day care and sports facilities.
An allowance for commuting, working from home and internet costs.
A Staff Immigration Team and a tax compensation scheme (the 30% facility) for international candidates.
Information and application
About TU/e, EHCI, QT/e and Quantum Delta NL
Eindhoven University of Technology (TU/e) is a leading international university specializing in engineering, science & technology. Through excellent research and teaching, TU/e contribute to progress in the technical sciences, to the development of technological innovations, and as a result to the growth of prosperity and welfare in the region and beyond. TU/e maintains close links with industry, healthcare, and the building & logistics sectors. TU/e is a central part of the Brainport Eindhoven region, which combines research on future technologies and a number of open innovation campuses with a strong industrial base comprising a mix of small, medium and large global enterprises. TU/e has formed the Eindhoven Hendrik Casimir Institute (EHCI) and Center for Quantum Materials and Technology Eindhoven (QT/e) both with the explicit aim for furthering quantum technologies.
Quantum Delta NL (QDNL) is public-private foundation, launched in 2020 with the mandate to coordinate and execute the Netherland's National Agenda for Quantum Technology (NAQT). Quantum Delta NL has been awarded €615 million from the Dutch Ministry of Economic Affairs and Climate Policy to power the advancement of quantum technology. TU/e hosts one of five QDNL major quantum hubs, collaborating on innovation by bringing together top-quality scientists, engineers, students, and entrepreneurs, working together on the frontier of quantum technology. The Eindhoven Quantum hub includes the creation of a field-deployed quantum safe communications testbed with the aim to become a testing facility and proving ground for quantum communications technology open to scientific and commercial partners form all over Europe and around the globe.
Application, Contact and Further Information
Candidates are invited to apply via the 'Apply now' button on the individual job openings linked above. The application should include:
Cover letter in which you describe your motivation and qualifications for the position.
Curriculum vitae, including a list of your publications/patents/achievements and the contact information of two references.
A copy of your BSc/Masters or PhD Thesis
Copies of diplomas and course grades
We look forward to your application and will screen at the earliest opportunity. The screening will continue until the position has been filled. We strive to a starting date soon as possible provided final subsidy confirmation is formalized.
You may contact the hiring managers for the individual positions for more information or contact Dr. Simon Rommel (s.rommel[at]ue.nl), Dr. Chigo Okonkwo (cokonkwo[at]tue.nl) or Prof. Idelfonso Tafur Monroy (i.tafur.monroy[at]tue.nl) for further details – please not that applications by e-mail are not accepted!